Article
Anne Frank New Zealand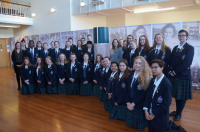 Having set up the exhibition in mid-September with Tom Rockman Arielly and members of staff at Otago Girls' High School, Lizzy Eaves spent a full day training students to be peer guides. "It was an absolute pleasure to deliver peer guide training at Otago Girls' High School to thirty students from Year s 9 to Year 13, plus several Year 12 boys from John McGlashan College. These young women and men are now very well equipped to guide their peers and students from other Otago schools through the exhibition in the coming weeks."
A large number of regional schools have booked to visit the venue during the last week of Term 3 and the first week of Term 4. These include: Logan Park High, Lawrence Area School, Dunstan High, South Otago High, Bayfield High, Kavanagh College, Columba College, St Kevin's College, Catlins Area School and St Peter's College. Eaves adds: "I'm sure these students will do an outstanding job as peer guides and will use their training confidently to explore issues of discrimination and prejudice with young people visiting from the local region."
A few days after setting up the exhibition and delivering peer guide training, Lizzy Eaves was very fortunate to attend the exhibition opening with Boyd Klap, Chairman of Anne Frank NZ. After impressive performances from Otago Girls' High School choir and kapa haka group, attendees were treated to a solo violin performance and readings from Anne's diary in English and te reo Maori by students Rose Stevenson, Meg Cunningham-Tisdall and Annalies MacDuff. The new Race Relations Commissioner Meng Liu Foon, city councillor Christine Garey and Boyd Klap all spoke powerfully about Anne Frank's legacy to the world as an inspirational mouthpiece in the fight against racism and discrimination in all its forms.
Open to members of the public during the two week spring school holidays, the team at Anne Frank NZ hope that visitors to the exhibition will be moved and inspired by what they read and see. As Anne so rightly said: "The good news is that you don't know how great you can be! How much you can love! What you can accomplish! And what your potential is!"