Article
Anne Frank New Zealand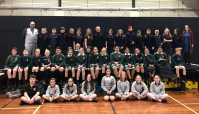 March 2020 saw the beginning of a challenging season for New Zealand. All businesses, cultural venues, schools and other learning centres throughout the country went into COVID-19 lockdown, mirroring the actions of many other nations around the globe. Anne Frank: Let Me Be Myself was due to open in Nelson at the end of April but the impact of coronavirus on our nation meant that the venue was no longer able to host the exhibition. The team at Anne Frank NZ were grateful when Expressions Whirinaki in Upper Hutt were able to accommodate the exhibition earlier than planned, opening on Queen's Birthday weekend in June and closing at the end of August.
In late July, Lizzy Eaves and Holocaust Centre of NZ Education Director Kris Clancy conducted peer guide training with students from three local intermediate schools: Fergusson, Maidstone, and St Joseph's. Despite many schools feeling the impact of COVID-19 lockdown and choosing not to take off-site visits, the good relationship between Expressions Whirinaki and these local schools ensured that 40 students attended the training day with their teachers. In total, nearly 450 students from these intermediates visited the exhibition with their peers and teachers, ensuring the continued success of the peer guide programme despite the effects of lockdown on the education sector.
Sadly, we were unable to hold either an opening or closing event for the exhibition in this venue, due to constantly changing restrictions on social gatherings. We were fortunate, however, that Expressions Whirinaki were still able to host a complimentary educational presentation 'Survivor Stories' on Sunday 9th August in their auditorium, which was full to capacity with 200 guests. Holocaust survivor Inge Woolf spoke about her early life in Austria and the impact of the Holocaust on her extended family, as did Vera Egermeyer, survivor of Thieresenstadt concentration camp and ghetto in former Czechoslovakia. Rick Sahar, the child of Holocaust survivors, spoke about his search for details of his father and mother's histories and the impact of the Holocaust on second-generation survivors. This event was very well received with attendees at times visibly moved by what they heard from our speakers.
Staff at Expressions Whirinaki were pleased to see steady numbers of visitors return to the venue once it reopened and commented that "the quiet and considered nature of the exhibition" was just what people needed during a time of great global uncertainty. Team Anne Frank NZ were equally pleased to see the success of the exhibition in Upper Hutt and are delighted that subsequent venues are now able to host Anne Frank as planned for the remainder of 2020 and into 2021.