Article
Anne Frank New Zealand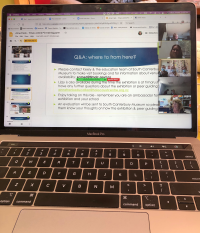 Despite the impact of Covid restrictions, the team at Anne Frank NZ is pleased that peer guide training for the touring exhibition Let Me Be Myself took place virtually on Monday, 14th March for students in Timaru schools and colleges.
Usually delivered in person at participating venues, this training event was adapted for online delivery by the exhibition's Education Manager, Lizzy Eaves. The current Omicron wave has continued to impact schools, colleges, and museums. As a result, students, teachers, and educators have remained adaptable, flexible and resilient in their approach to teaching and learning in Aotearoa.
Nowadays schools are understandably reluctant to allow their students off-site for indoor activities with people outside their 'bubbles' but, thanks to the efforts of the education teams at Anne Frank NZ and the South Canterbury Museum, a dozen senior students, in Years 11 and 12, from Roncalli College and Craighead Diocesan School participated in online training. Lizzy Eaves, located in Wellington, was joined online by museum educators Keely Kroening and Ruth Gardiner to train students in several Zoom sessions throughout the day, incorporating 'breakout rooms' for discussion during the event. Students learnt that the exhibition considers Anne's life within the context of the Holocaust and WW2, before using materials from Anne Frank House to plan their peer guide visits to the museum.
This training day takes place at a time when education about both national and global history, particularly the causes and consequences of conflict, is more pertinent than ever. Elie Wiesel, Auschwitz survivor and Nobel Peace Prize recipient, said: "Human suffering anywhere concerns men and women everywhere." We hope that this exhibition will continue to inspire today's youth to be upstanders in society and to develop support, tolerance, and understanding of others, whether at home or abroad.