Article
Anne Frank New Zealand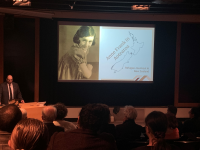 When the Airforce Museum of New Zealand chose to host the exhibition for a second time, the team at Anne Frank NZ were delighted. Back in 2018, numbers of peer guides and general visitors at the venue were impressive and we hoped to see a similar response to the exhibition in Christchurch in 2020. However, this was all before COVID-19 and its undeniable impact on businesses, schools, and colleges throughout the country.
After canvassing local schools and discovering that they were reluctant to undertake offsite visits, we decided not to run the peer guide programme but instead offer museum educator led tours of Anne Frank: Let Me Be Myself. This enabled visiting schools to experience the exhibition in a different way, guided by Airforce Museum of NZ staff familiar with Anne Frank's story and the history of the Holocaust.
In lieu of peer guiding at the venue, we offered a well-attended complimentary evening presentation on October 14th entitled Anne Frank to Aotearoa: refugee journeys. Kristopher Clancy, Education Director at the Holocaust Centre of NZ, spoke about Anne's status as a refugee before talking about NZ immigration laws in the pre-war period. He then provided detailed information about the formation of the Christchurch Refugees Emergency Committee who worked tirelessly to help Jewish German and Austrian refugees immigrate to NZ. He explored the stories of the Badian, Binswanger, and Kaiser families in their quest to find a safe haven in Aotearoa and concluded his presentation by considering the nation's immigration laws post-WW2, as well as the current global refugee crisis.
We were fortunate to have members of the Sutherland family in attendance for this event. Ivan Sutherland, founding member of the Christchurch Refugees Emergency Committee, was Professor of Philosophy at the University of Canterbury. Dr Ian Sutherland, one of Ivan Sutherland's sons, shared personal anecdotes about individual refugees he met through his father's work on the Christchurch Emergency Refugee Committee.
The team at Anne Frank NZ are grateful to the Airforce Museum of NZ for hosting this event, particularly Chris Davey, museum educator and our compere for the evening. Now the exhibition has waved a fond farewell to Christchurch and is making its way north to Motueka where it will be located from November 2020 until February 2021.