Article
Anne Frank New Zealand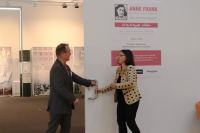 Anne Frank NZ was delighted to see Let Me Be Myself open at Te Awahou Nieuwe Stroom in Foxton on 31st October. A vibrant museum that celebrates New Zealand's Dutch immigrant community and culture, this was the perfect place to house Anne Frank for the next four months.
Earlier in October Lizzy Eaves trained nearly fifty students from 7 local schools to act as peer guides and she was impressed by their enthusiasm and engagement in the exhibition and its key message of tolerance. Students and staff from Foxton School, St Mary's Catholic School, Kiwitea School, Foxton Beach School, Levin Intermediate School, Freyberg High School and Nga Tawa College left the training day well prepared to visit the exhibition with their peers before the end of the school year.
Arjan van der Boon, instrumental in creating Te Awahou Nieuwe Stroom, commented that the exhibition was "a perfect fit for the museum" and added that "people were amazed to see it in Foxton" all the way from Anne Frank House in Amsterdam. The icing on the cake for Anne Frank NZ and the team at Te Awahou Nieuwe Stroom was the exhibition's grand opening with notable speeches by Boyd Klap, Chairman of Anne Frank NZ, and Meng Foon, Race Relations Commissioner for New Zealand. The Dutch Ambassador, HE Mira Woldberg, officially opened the exhibition by moving a bookcase, with the help of Arjan van der Boon, to reveal the exhibition space door. This reference back to the office bookcase used to hide the entrance to the secret annexe in Anne Frank House rounded off the evening's events with a suitable touch of Dutch humour. With the summer holidays spanning Anne Frank's residence in Manawatu, we hope that many locals and visitors to the area will see the exhibition and be inspired by her life story.
"A person who's happy will make others happy; a person who has courage and faith will never die in misery!" Diary of a Young Girl (7th March 1944)