Article
Anne Frank New Zealand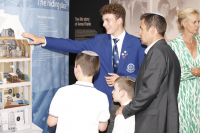 We're approaching six months of Anne Frank in New Zealand and to mark this milestone I'd like to take a moment to both celebrate and reflect.
Anne Frank: Let Me Be Myself arrived on our shores in January 2018 and opened to the public at Auckland War Memorial Museum on January 25th. In May it moved to Wellington and on July 28th it will open in Christchurch. So far, we've had over 12,000 school children go through the exhibition from over 50 different schools. Many of them have been part of our unique peer guiding project, where Year 11 to 13 students are trained to present the exhibition to other pupils at their school.
In addition to our schools' programme, we've had around 50,000 members of the public come and view the exhibition across both venues. The feedback we've had has been excellent, with people commenting on how powerful the exhibition is. Created by the Anne Frank House in Amsterdam to give people the same educational experience as visiting the museum, it contains the only moving image of Anne Frank in existence, three historical artefacts, a model of the Anne Frank House and many family photographs of the Franks not widely seen before outside the Netherlands.
By far the most feedback we've had has centred around the six youth panels at the end of the exhibition. Created to bring the themes from the Frank story up to date, we see several young people from Europe talk about their experience of racism, homophobia and other types of prejudice in the 21st Century. The exhibition asks you, the viewer, to put yourself in the place of those suffering discrimination and to think about how you would deal with it, either as victim or onlooker.
New Zealand is viewed worldwide as a tolerant, forward-thinking, multicultural country. However, we have many challenges that have to be addressed in this nation. Racism, bullying, homophobia and sexism are still common, a daily occurence in fact, and the best way to challenge this is to put people in the shoes of those who are victimised. The exhibition Anne Frank: Let Me Be Myself does this in an expert and accessible way, part of the reason for its huge success.
We set out with the goal of 200,000 New Zealanders through the exhibition in three years and we are already more than a quarter of the way there. The support we've had from our sponsors, volunteers, venues, the public and schools has been incredible. With more complementary projects on the horizon, plus a great range of venues lined up across both Islands during 2019 and 2020, we hope this support continues.
Ultimately, we hope that each visitor who graces the exhibition takes away with them one of Anne Frank's most important beliefs:
"Where there's hope, there's life. It fills us with fresh courage and makes us strong again"
Anne Frank - Diary of a Young Girl (6th June 1944)