Article
Anne Frank New Zealand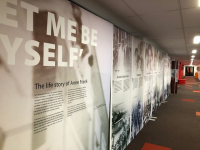 On Monday 1st August, a team of staff and volunteers from Anne Frank NZ, Rotorua Library Te Aka Mauri and Rotorua Museum Te Whare Taonga o Te Arawa set up Anne Frank: Let Me Be Myself on the second floor of the library. Housing the exhibition in a busy, popular venue so well frequented by the public meant that within minutes of setting up there were visitors curious to read the panels and look at items on display.
The official opening took place on Thursday 4th August, the date in 1944 when Anne Frank and the other secret annex occupants were arrested. The opening ceremony was well attended by local dignitaries, including Councillor Mercia Yates who represented Rotorua Lakes Council and gave a personal account of her Māori and Jewish whakapapa before opening the exhibition. Two local students, from Te Kura Kaupapa Māori o Te Koutu and Rotorua Lakes High School, read an extract from the te reo and English translations of Anne Frank's diary, which was a touching part of the ceremony.
Joanne Dillon, Adult Learning Programmes and Promotions Lead at Rotorua Library Te Aka Mauri, acted as MC for the evening and is currently preparing a series of Anne Frank related programmes and events for seniors in the local community. Sadly, due to the continuing impact of Covid-19 on school staffing and learning programmes, peer guide training did not take place at this venue. However, Anne Frank NZ Education Manager Lizzy Eaves trained educators from Rotorua Museum Te Whare Taonga o Te Arawa, as well as Joanne Dillon Rotorua Library Te Aka Mauri adult education lead. Despite pressures on teaching staff in local schools and colleges, we hope that many students will visit the exhibition with their kaiako over the next few months.
Boyd Klap, Anne Frank NZ Chairman, was delighted to attend the successful opening of Let Me Be Myself in Rotorua. He was particularly pleased to hear students reading from the diary in te reo and English, having spearheaded the 2019 translation of Anne Frank's diary in Māori.
The exhibition is located on the second floor of Rotorua Library Te Aka Mauri and available to view during library opening hours until 23rd October. For more information about the exhibition at this venue click here and to contact the museum education team about education bookings click here. We hope that the exhibition's stay in centre of the North Island will be successful and that many locals and visitors from further afield will be inspired by Anne Frank's enduring story and legacy.