Article
Anne Frank New Zealand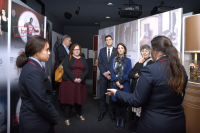 On May 23rd the Anne Frank exhibition team and the Holocaust Centre of New Zealand were honoured to have His Worship Mayor Justin Lester open the exhibition Anne Frank: Let Me Be Myself in Wellington.
Among the 100 guests at Wellington's Dominion Museum were Sir John Clarke, Labour MP Carmel Sepuloni and the Ambassadors of Israel, Germany, Holland and Poland. There were also several Holocaust survivors and Inge Woolf, former child refugee and Director of HCNZ, gave a rare public account of her experience of fleeing Vienna as a child. Rachel Digney, a student from Tawa College, also read from Anne's diary before giving her own speech, encouraging people of her generation to stand up against prejudice. However, the spotlight really falls on the Mayor of Wellington and his powerful words.
"There is nothing more frightful than ignorance and prejudice in action," said Lester, as he officially opened the exhibition.
"No one in 1933 could have predicted the horror their country would experience. No one can predict the impact of fringe voices in society today. It's my job and your job - our job - to give nothing to racism. We must stand up to intolerance every time we see it."
Lester went on to praise the people of Wellington for their incredibly positive and giving attitude. But he urged that positive reinforcement of this attitude must continue down the generations.
"This exhibition will illuminate, inspire and teach us to never forget and to learn from the horrors we have seen."
After a successful run at Auckland War Memorial Museum, where over 40,000 people experienced the story of Anne Frank including 10,000 high school students, we are hopeful that Wellingtonians will be highly engaged with the exhibition. Anne Frank: Let Me Be Myself is now open to the public until July 22nd. Schools should contact Chris Harris to enquire about making bookings at the venue: education@holocaustcentre.org.nz