Article
Anne Frank New Zealand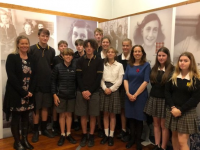 Motueka District Museum is one of New Zealand's little gems. It is housed in the original Motueka District High School building, where local students were taught from its opening in 1913 to its closure in 1969. Given to Motueka District Council on condition that it should be used as a museum, it opened its doors to visitors in 1987 and is the latest venue to exhibit 'Anne Frank: Let Me Be Myself'.
Motueka's High School is located within walking distance of the museum and on 11th November twelve Year 10 students, with their Social Studies teacher and Motueka museum educators, took part in peer guide training with Lizzy Eaves. This took place initially in Motueka Public Library, where students learnt about the Holocaust and how it impacted Anne Frank's life. The group was fortunate to then take part in the Remembrance Day ceremony at the town's war memorial at 11am, enabling them to reflect on the worldwide impact of war on military personnel and civilians.
Relocating to the museum for the rest of the morning, students undertook workshop activities in the exhibition space to explore how they would conduct peer guiding. They also spent time reading display panels, exploring exhibition objects, and asking further questions. At the end of their training, the group met Boyd Klap, Chairman of Anne Frank NZ, and Meng Foon, NZ Race Relations Commissioner.
The afternoon's opening event, hosted by museum curator Jen Calder, took place in front of Motueka District Museum. Students from Parklands School whānau class, located directly behind the museum, performed several waiata before kai was shared in Muses café. Chris Sutton, chairperson of the Motueka District Museum Trust Board, officially welcomed attendees at the event, before Boyd Klap, Meng Foon, and Lizzy Eaves spoke. Current Head Boy at Motueka High School, Chris Davis, and next year's Head Girl, Quinnie Weber, performed a reading from Anne Frank's diary before the exhibition was officially opened by Motueka Community Board Chair, Brent Maru.
'Anne Frank: Let Me Be Myself' will remain in Motueka throughout the summer months and we hope that many domestic tourists will visit the exhibition during their time in the beautiful Tasman region. If you live in the area, or will be visiting over the holiday period, make sure to stop in at the museum and see the exhibition before it leaves Motueka at the end of February.