Article
Anne Frank New Zealand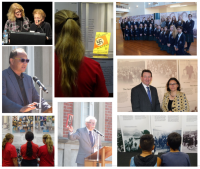 When Boyd Klap took on the role as Chairman of Anne Frank New Zealand in 2017 the plan was to enable 'Anne Frank: Let Me Be Myself' tour the country for three years (2018-2020). Now we're at the end of 2020, Boyd reflects on what has been achieved in the past three years and what is to come for Anne Frank NZ:
What do I feel has been achieved over the past three years of the Anne Frank exhibition in New Zealand?
Although more than 100,000 visitors have come to see the exhibitions, the most satisfying part is that more than 20,000 students came and over 400 peer guides were trained to take their fellow students through the exhibition.
Anne's strength in the most stressful of conditions is a message of hope to young people. She was isolated for more than two years which makes our Covid-19 isolation insignificant.
As one young woman wrote: " I thought I had major problems in life with study and with some people around me but Anne gave me strength and hope. I now realise that I am a very fortunate person living in New Zealand. Thank you Anne".
What do I hope will be achieved in the next two years?
In the next couple of years we will have the exhibition travelling again throughout New Zealand, going to places where it has not yet been. I hope that many young people will read the diary of Anne Frank and learn about discrimination, in particular about the Holocaust. That must never be forgotten. Anne's experience must live on and I hope that many students will learn from history and how fortunate they are to live in New Zealand.