Article
Anne Frank New Zealand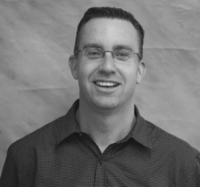 Meet Chris Harris: National Director of Education for HCNZ
Q: Tell us a bit about your upbringing, and your Jewish heritage. What did the Holocaust mean to you as a child and how did it inform your growth into an adult?
A: I was raised in West Auckland, to working class parents - my mother loved her History. It was not until I was in my teens that she told me about my Polish-Jewish roots. The Holocaust was taught to me by my mother who shared stories of horror and explained that we should learn from the past to make us better people for the future. As I got older I started to research the Holocaust more and became inspired by stories of resistance and survival. These stories were important to me because I believed that despite the worst circumstances people were still inspired to endure.
Q: Until recently you were a teacher at a secondary school in Auckland and you taught your students about the Holocaust, even though it's not directly on the curriculum. Can you tell us what NZ teenagers get from Holocaust education?
A: I believe teenagers learn that we must end discrimination, prejudice and apathy through studying the Holocaust, that young people are the future and that they should not be by-standers but should instead be upstanders. During the Holocaust many people put themselves in harms way to save others. It's important to understand that even the most cultured nation in Europe at the time could succumb to evil. Students need to understand that this could happen anywhere and that nations who shared in this prejudice also participated in acts of persecution.
Q: How did you become involved with HCNZ and the Anne Frank exhibition?
A: I applied for the Yad Vashem programme in 2014 and got selected. I then went to Israel in 2015 to study more about the Holocaust, an amazing professional development opportunity. I was elected onto the HCNZ board in August that year and assisted with the education portfolio on the board. In late 2016 I was offered the chance to take on the National Director of Education role, which I accepted for a year and my school was very supportive of this. I was lucky enough to lead 26 wonderful educators to Yad Vashem this year, an experience which continues to amaze me. I've now accepted a contract for a further two years as National Director of Education, which means I've resigned from my position at school, but I'm excited for the new challenge. When HCNZ agreed to host the Anne Frank exhibition it made sense for me to take the lead on the education side - another exciting challenge.
Q: You've written all the NZ education material for the exhibition. What has been your major focus? What's the key message you hope to convey?
A: My focus is that the story of young girl is only part of the bigger picture, that we're too ready to judge others in this world. We need to develop tolerance, understanding and learning from each other. The focus of the exhibition is that we must stop discrimination as we can't allow the minority to dictate to the majority that difference is something to be scared of when it's something we should embrace.
Q: What are you hoping will be achieved over the next three years?
A: I'm hoping that thousands of people come to view the exhibition and that it opens discussion about discrimination issues. I hope that visitors understand that one young girl who wrote about her life had messages for us today and in the future - that we are really all good at heart and can make a difference in our world.