Article
Anne Frank New Zealand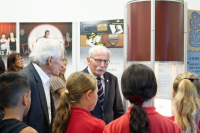 "I know what I want, I have a goal, I have opinions, a religion and love. Let me be myself and then I am satisfied. I know that I'm a woman, a woman with inward strength and plenty of courage."
These words from Diary of a Young Girl (April 11th 1944) provide the tag-line for the NZ Touring Exhibition: Anne Frank: Let Me Be Myself. Written by a young girl who dreamt of being a journalist, Anne's words resonate with young people today. They also provide an insight into what her life was like before she was deported to Auschwitz-Birkenau in 1944.
Anne is an inspirational figure with whom many young people feel connected after reading her diary. This was the case at the opening of 'Let Me Be Myself' at the National Army Museum on February 14th. The event was well attended by staff and students from three local primary schools, Waiouru, Raetihi and Orautoha, and many of these students had either read Anne Frank's Diary at home or had studied it at their respective schools.
It was touching to see students' reactions when the doors to the exhibition were opened. One youngster was genuinely moved by the replica of Anne's Diary, an eye-catching facsimile of her handwriting and the diary's red checked outer covers. Several other students were transfixed by the two curved panels that recreate part of the secret annex, feeling in small part connected with her life in hiding. Another group of students were transfixed by rare video footage of Anne's early life, while both adults and children read interpretation panels about her life and stories from young people who have experienced discrimination in our modern world.
Beautifully displayed by the museum's experienced team, the National Army Museum reports that the exhibition has been an extremely positive addition to their permanent collections. They have had high visitor numbers to the venue over the late summer period, including booked school groups. Five peer guides from Okahune Primary School took seventy-eight students around the exhibition during the first term of this academic year. One of these guides commented that the exhibition not only taught him about Anne Frank's life during the Second World War but also prompted him to "think about how to stop bullying" because of the modern panels that focus on discrimination. One of the school's educators noted that a visit to the exhibition was "an amazing experience for students, teachers and parents" and provided "a real reminder of the power of perceptions people have and how quickly it can end up devastating millions of lives."
We anticipate that many more students and members of the general public will visit the Anne Frank exhibition at the National Army Museum before it closes on June 16th and moves on to Waikato. Anne's story is still so powerful and relevant that the National Army Museum and its many visitors have welcomed the exhibition with open arms.