Article
Anne Frank New Zealand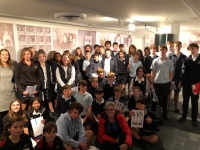 In early 2020 the team at Anne Frank NZ were preparing to set up the exhibition at Nelson Provincial Museum when COVID-19 hit our shores and we went into national lockdown. After renegotiating dates with the venue, we were delighted to conduct peer guide training and an opening ceremony for the exhibition on Thursday 1st July 2021, just over a year after our scheduled programme at this venue.
Local schools responded very positively to the guide training day with fifty students packed into Nelson School for Girls' library and the exhibition space in the museum. The five local schools who participated were: Nelson College and Nelson College Prep School, Nelson College for Girls, Nelson Christian Academy, and St Joseph's School. Lizzy Eaves was impressed by the engagement of students and teachers with the exhibition and its associated education materials. Our grateful thanks go to the educators and students who attended the training day, the librarian at Nelson College for Girls, and Nicki Green, educator at Nelson Provincial Museum. We are excited to learn how students from the region respond to visiting the exhibition and acting as peer guides during its stay at the museum.
Attended by members of the local community, the exhibition opening featured speeches from Judene Edgar, Nelson's Deputy Mayor, His Excellency Stefan Krawielicki, Ambassador of the Federal Republic of Germany, Boyd Klap, Chairman of Anne Frank NZ, and David Zwartz, exhibition sponsor and prominent member of the Wellington Jewish community. Below you can read a selection of these speeches, all of which consider the lessons we can learn from Let Me Be Myself, namely that it is a history for today using the lessons of the Holocaust to explore discrimination in contemporary society.
Judene Edgar, Nelson's Deputy Mayor:
"Today I have the honour to welcome this exhibition to Nelson, so that our community can learn more about what happened in occupied Central Europe in the 1930s and 40s and to see how antisemitism and prejudice affected Anne's family. It allows us to look through that lens to explore what discrimination and prejudice exists today … By learning more about that terrible time – and ensuring we never forget – we hope to prevent such an atrocity ever occurring again … It brings the reality and impact of what happened during the Holocaust to life for people here in Nelson Whakatū; and for parents, supporting us to explain this horrific time more clearly to our tamariki. The more they can learn and understand, the more we hope to create future generations who are inclusive, caring and thoughtful … The relevance of this exhibition to our young people has been further increased by the addition of two panels – a Pākehā girl and a Māori boy who talk about their own experiences with discrimination. This is a reminder to our young people that sadly, discrimination is not confined to the history books or countries far away."
His Excellency Stefan Krawielicki, Ambassador of the Federal Republic of Germany:
"It is a great honor for me to be part of the opening of the Anne Frank exhibition in Nelson tonight. Anne Frank has accompanied me since I arrived in Aotearoa New Zealand. In October 2019, only two months after I became German Ambassador in Wellington, I was present for the opening of the Anne Frank exhibition in Foxton. Just two weeks ago, I participated in the inauguration of the Anne Frank Memorial in Wellington, followed by an Anne Frank charity dinner … this exhibition has had a very long lasting success because Anne Frank's diary and this exhibition have a message that remains strong. It is a strong message, especially in the face of today's antisemitism, intolerance, discrimination, prejudice, racism, hate speech, bullying and exclusion of all forms. These are evils that unfortunately still exist and remain contagious, evils against which all of us have to stand up and fight … "
David Zwartz, exhibition sponsor and prominent member of the Wellington Jewish community:
"Anne was a very special person, as we know from her diary. She was smart, cheeky, curious, ambitious, self-aware, funny, hopeful and articulate. She called her diary 'Kitty' and started each entry 'Dear Kitty'. Over the two years and two months of her diary entries, from 1942 to 1944, we follow her development from a 13-year-old to a 15-year-old. Because of the Second World War and the Nazi German occupation of the Netherlands, the circumstances in which she was living and writing were highly unusual for a teenager … As Jews we are proud that Anne wrote about and celebrated Jewish values. She spoke to Kitty about the sad history of the persecution of the Jews for two thousand years; she was also aware of the likelihood of her own personal fate … Nobody in our own country should have to experience prejudice, discrimination, or racism – because they are disabled, have a different colour or sexuality, or belong to another ethnic community or religious community. We have seen the tragedy of the massacre of Muslims in Christchurch – it must never happen again."