Foxton - Te Awahou Nieuwe Stroom
Fri 01 Nov 2019, 09:00 am
Mon 02 Mar 2020, 04:00 pm
Foxton - Te Awahou Nieuwe Stroom
92 Main St, Foxton 4814
Horowhenua
History, Children, Exhibitions, Whanganui Manawatu Region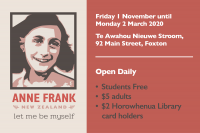 Don't miss the chance to see an internationally renowned exhibition from Anne Frank House in Amsterdam in a venue near you as it tours New Zealand (2018 – 2020).
Learn more about Anne's life in Nazi occupied Europe and see authentic artefacts and reproductions that bring these events to life.
Consider how you can stand up against prejudice in Aotearoa today by reading stories of young Europeans and New Zealanders who have experienced different forms of discrimination.